6,014位

前回 5,991位




お手軽ゲーム

ひまつぶしに最適なお手軽ゲーム!

Cow Evolution - Crazy Cow Making Clicker Game



 Google Play 更新日 : 2020/2/26

〈Android要件〉
 4.1 以上

〈インストール数〉
 10,000,000以上

〈バージョン〉
 1.11

〈提供元〉
 Tapps Games

4.7




548,648人
プロモーション動画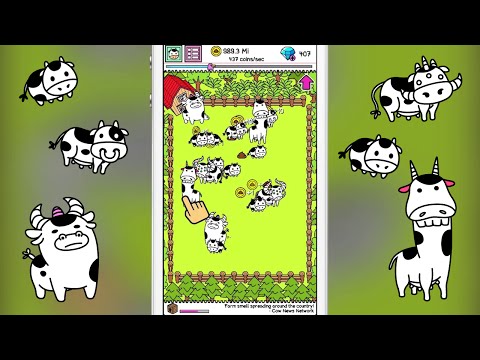 ゲーム画面 
※クリックすると拡大し、ダブルクリックで閉じます。
ゲームの説明
Tired of those boring farm games that are all the same? Come find out what happens when you merge ordinary cows and crazy mutations start taking place!

Welcome to Cow Evolution - and trust us when we tell you its no simple farm game. Cow Evolution is a mutant maker, evolution simulator, idle clicker game! You get to play god and combine cows to evolve them, discovering the most curious, exotic and bizarre forms of cows to ever exist!

Every type of cow will generate idle money, which you can use to ship new cows to your farm. Combine two cows of the same type, and watch a crazy mutation take place. As you merge and combine, mutations will spread like a virus, and your cows will evolve into all types of crazy and funny monsters.
評価数とランキング順位の推移
ゲームの評判
Cool
It's very addictive!
cow cow... hilarious!!!!!
牛はどこへ向かうのか ただ牛を合体させて進化させるだけの奥のないゲームだが、やっぱりこのキャラデザインはツボなのでやめられなくなるね。これをベースにロープレとかアクションに応用できないかな?
合成強化と進化の 牛バージョン