3,811位

前回 3,813位




レース/スポーツゲーム

面白いと評判のレース/スポーツゲーム!

Jack Pott - Crazy Taxy Driver On The Run!



 Google Play 更新日 : 2015/12/7

〈Android要件〉
 3.0 以上

〈インストール数〉
 50,000~100,000

〈バージョン〉
 2.0.1

〈提供元〉
 Tapps Games

4.0




928人
プロモーション動画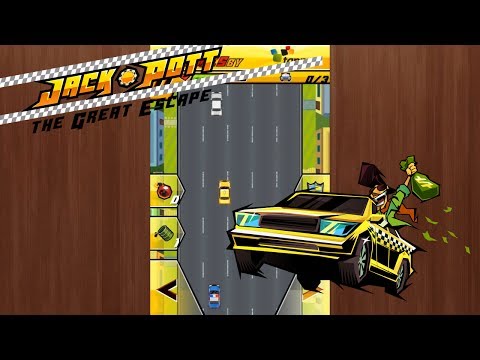 ゲーム画面 
※クリックすると拡大し、ダブルクリックで閉じます。
ゲームの説明
Buckle up and hit the gas, it's time for a ride! Drive crazy cars through traffic packed streets and try to outrun the chasing police and mafia. Are you up for an adventure? Join the fun now!

Meet Jack Pott, a smarty pants cab driver desperately in need of money. The easiest way to get his hands on it? To run the streets on crazy machines, breaking away from the police and robbing stores in order to to fulfill his lifelong dream of hitting the jackpot. Can you help him make some serious cash?

Cops will have an eye on you, so be careful while you speed up on the streets after collecting your precious money. Take them down with traps and, of course, your driving skill! Dodge the cars and leave some treats behind.
評価数とランキング順位の推移
ゲームの評判
スロットで、課金アイテムGET うん、バイクスロットで、GETしたよ! ゲーム自体楽しい
つまらん 何がおもしろい?
お手軽 コレはハマる
面白い 結構はまるかも
最高 やって損はない!