レース/スポーツゲーム
面白いと評判のレース/スポーツゲーム!
Breitling Reno Air Races



 Google Play 更新日 : 2013/9/9

〈Android要件〉
 2.2 以上

〈インストール数〉
 100,000~500,000

〈バージョン〉
 1.2.0

〈提供元〉
 Breitling

3.6




3,193人
プロモーション動画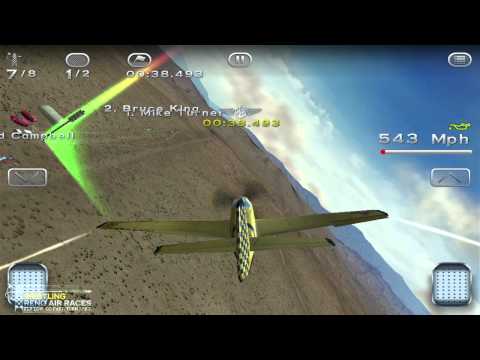 ゲーム画面 
※クリックすると拡大し、ダブルクリックで閉じます。
ゲームの説明
A brand new enhanced version here! https://play.google.com/store/apps/details?id=com.breitling.breitlinggame2

Take the plunge and join the Breitling Reno Air Races, flying the most famous racing planes on the planet in the fastest motor sport on earth!

THE NATIONAL CHAMPIONSHIP AIR RACES 2011
The National Championship Air Races, better known as the Reno Air Races, takes place at Stead airport a few miles north of Reno, Nevada, where, for five days, pilots in several categories of plane compete on circuits marked out by pylons in the desert. The racing aircraft reach speeds in excess of 500/mph – by far the fastest-moving machines of all motorsports!
評価数とランキング順位の推移
ゲームの評判
Good! ダウンロードに時間がかかりますが、 ゲーム内容は面白いです。最初から機種も数種類あり、フライトシミュレーターとしてもよい出来です。
I did not start up unexpectedly This game requires additional data. Do you want to launch the download >Select "Yes" This additional data cloud not be downloaded. Try latter. And it will not be connected It is a shame though it is a very fun game Please resolve quickly. From Japanese fans.
ダウンロード ダウンロードにとても苦労する。時間がかかるし、1回ホーム画面に戻ってしまうと、最初からやり直しになる
Reno air お金払ったのにソフトが起動しない。このゲームは詐欺ではないですか。怪しい?
面白い 英語が苦手やからチャットは出来へんけど、いろんなユーザーとレース出来るのがいい。