パズル/思考系ゲーム
Marble Dash-Jungle Marble Game



 Google Play 更新日 : 2020/5/27

〈Android要件〉
 4.1 以上

〈インストール数〉
 500,000以上

〈バージョン〉
 1.1.427

〈提供元〉
 707 INTERACTIVE

4.4




5,925人
プロモーション動画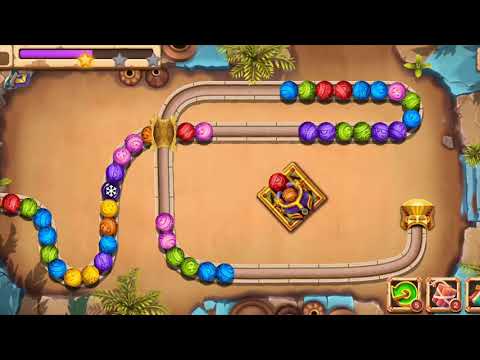 ゲーム画面 
※クリックすると拡大し、ダブルクリックで閉じます。
ゲームの説明
Nefertiti, the mysterious queen of ancient Egypt, whose tomb has been robbed. Thence, her soul can't last eternal. You, as a heir of the royal family, must chase after those thieves and win the battle against the supreme leader among them. In the end, you will bring the eternity back to the queen Nefertit.
Enjoy the magic adventure of Marble Shoot Gamese! Pop colorful balls to solve puzzle quest! Join us in this exciting new marble shooting games and solve the puzzleget your magic journey on!

Marble Dash has a lot of magical quests with more than 400 challenging levels. Come and explore the puzzlemysteries of fantasy jungles and sunny beaches with the classic match 3 pinball games! The gameplay is very simple, match 3 marbles or more of the same color and use powerful boosters to pop those marbles! you need to eliminate them all before they are absorbed by mysterious cave! Download this free Puzzle marble game right now!
評価数とランキング順位の推移
ゲームの評判
序盤かなり簡単で爽快感を得られやすい。 色合いのバランスも悪くない。画面切替時の広告は大きくもなく短時間でさほど気にもならない。 ただ、プレイ時の広告配置は少々いただけない。画面が狭くなる真下にあり、間違ってタップし易い程には大きい。それが残念。