アクションゲーム
Super Boys - The Big Fight



 Google Play 更新日 : 2017/4/13

〈Android要件〉
 2.3 以上

〈インストール数〉
 100,000~500,000

〈バージョン〉
 1.26

〈提供元〉
 Mooff Games

4.2




4,645人
プロモーション動画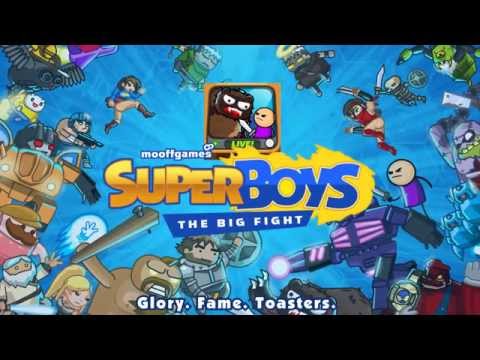 ゲーム画面 
※クリックすると拡大し、ダブルクリックで閉じます。
ゲームの説明
Super Boys server will be offline for 1 hour while we upgrade it at the following timezones:
Thursday 9pm PST, Friday 3pm GMT, Friday 12pm Hong Kong, Friday 12am EST.

The year is 2019 and everyone's bored of TV, celebrities and games. Everything is inflated.

S U P E R B O Y S - The Big Fight, is an ultra violent TV show where fighters from across the globe form teams that clobber each other to win money, toasters and blu-ray players.

評価数とランキング順位の推移
ゲームの評判
起動しない 助けて
わからない 始め方がわかりません誰か教えて
スマブラ好きは是非! キャラクターの育成もあり、なかなかはまります!
ゲームが不安定でログイン出来なくなります
起動しません。なぜですか?改善して下さい。