ロールプレイングゲーム
面白いと評判のロールプレイングゲーム!
Arcane Quest Legends - Offline RPG



 Google Play 更新日 : 2020/2/16

〈Android要件〉
 4.1 以上

〈インストール数〉
 500,000以上

〈バージョン〉
 1.3.0

〈提供元〉
 Nex Game Studios

3.9




16,167人
プロモーション動画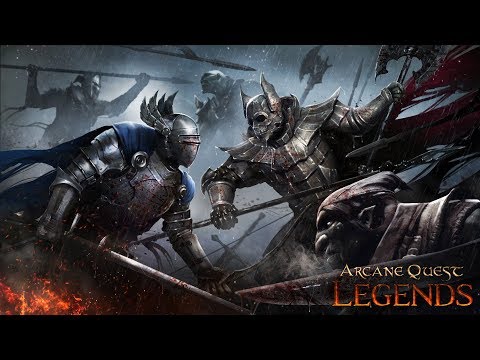 ゲーム画面 
※クリックすると拡大し、ダブルクリックで閉じます。
ゲームの説明
The Powers of Darkness have spread in the Real of Auria, you must forge your own destiny with this action packed RPG Hack & Slash and fight your way through endless hordes of orcs, undead, demons and all sorts of terrifying creatures.

Merciless dungeon hunter or savior of the peace? Build your own legend, level up and create your character to match your favorite combat style. With no standard classes, your imagination is the only limit to grow the final warrior.

Complete dozens of primary and side quests, entertain yourself with mini games to break the action, hire the best ally to participate in this great adventure.
評価数とランキング順位の推移
ゲームの評判
まだ序盤ですが、このArcana Questは中々いいですね。 ただ、チラッと見たのが課金でプレイエリアを増やす的な感じだったような。 相変わらず英語なので、ちょっとめんどうです。なので、エンチャントの理解が難解そうです。
なかなか面白いです。英語も分かるところだけでストーリーがなんとなく分かるし、英語のゲーム慣れしてる人はシステムも理解できると思います。難易度一番高いのは序盤すぐ死にますが、緊張感あっていいですよ。
内容はいいと思います。しかしステージ2、3を購入するのに320円…。そのあとのステージはいくらかわからない。怖くて買う決心がつきません。
日本語対応にしてくれたらなお良し
もう少し分かり易くしてほすい(;´∀`)