アクションゲーム
Action of Mayday: Pet Heroes



 Google Play 更新日 : 2016/5/25

〈Android要件〉
 2.3 以上

〈インストール数〉
 1,000,000以上

〈バージョン〉
 1.0.4

〈提供元〉
 Toccata Technologies Inc.

4.2




12,598人
プロモーション動画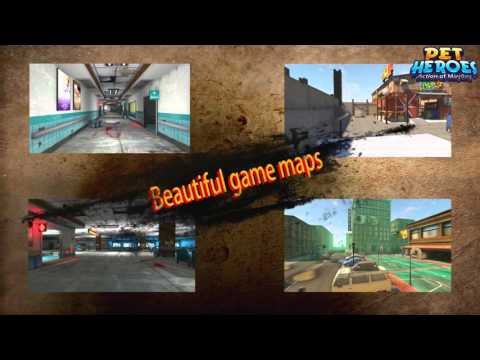 ゲーム画面 
※クリックすると拡大し、ダブルクリックで閉じます。
ゲームの説明
In 2030, an unknown force invents a biochemical weapon and attacks the Earth. The weapon spreads a virus that can mutate human genes. Most of mankind has turned into zombies. The entire civilization is at stake.

However, the virus does not have the same effect on domesticated pets, and even makes them much smarter. They take the weapons left by their owners and go on a mission to hunt down zombies. They are the only hope left to save the world!

Pet Heroes is a game brought to you by the team behind the popular Action of Mayday FPS games. It is made special for all FPS fans and players like you.
評価数とランキング順位の推移
ゲームの評判
可愛いのは見た目だけ プレイヤー位置固定型でタワーディフェンスに近い感覚のTPS。スタミナ制でガチャあり広告も多め。 ゲームは主人公の犬が武器特性とバフを持つ他の二匹の動物とチームを組んで戦う。 キャンペーンモードとウェーブ制のダンジョンモード(サバイバル)があるが、推奨火力を満たさないと次へ進めないことがこのゲームの欠点。 照準がぶれやすい上に敵の動きが速かったり特異な移動をするため、見た目と当たり判定の大きさに反してシビアな難易度のゲームになっている。
最低!課金したのに反映されない!詐欺ゲーム!
アプリが開けない…( ̄▽ ̄;)評価以前の問題でしょう。