9,966位

前回 9,957位




アクションゲーム

The Executive



 Google Play 更新日 : 2016/1/13

〈Android要件〉
 2.3 以上

〈インストール数〉
 1,000以上

〈バージョン〉
 1.1

〈提供元〉
 Noodlecake Studios Inc

4.3




112人
プロモーション動画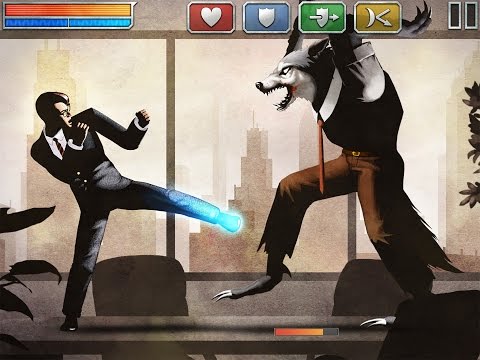 ゲーム画面 
※クリックすると拡大し、ダブルクリックで閉じます。
ゲームの説明
From the creators of the award-winning "Pizza Vs. Skeletons" comes The Executive: a fast-paced, cinematic, martial arts action game designed from the ground up for Android. You are the CEO of a company that has been infiltrated by werewolves, and it's your job to save your employees, and eventually the entire city, from their dastardly schemes.

OUR PROMISE TO YOU: No ads. No getting suckered into buying more stuff later. The whole game, for one price, for all updates, forever.

The Executive combines a high-speed combat system, timing-based running and platforming, 120 hand-crafted levels, a full inventory of moves and upgrades, and a simple mining company simulation for earning money, all into one cohesive experience. The fighting engine evokes a cross between fighting and adventure games with controls designed from scratch to be ideal for touch screens. The platforming (or "stunt") segments require precise timing with an emphasis on visual timing instead of musical rhythm. Both of these mechanics are brought together by the SP bar, which allows you to execute gesture-based special moves like flame kicks, health restoration, and even morphing your character's arm into a silver spike to impale foes.
評価数とランキング順位の推移
ゲームの評判
途中で強化が打ち止めになるのはよくないとおもいます。