8,970位

前回 9,032位




カード/ボードゲーム

Twilight Struggle



 Google Play 更新日 : 2018/10/1

〈Android要件〉
 4.4 以上

〈インストール数〉
 10,000以上

〈バージョン〉
 1.1.3

〈提供元〉
 Asmodee Digital

4.3




858人
プロモーション動画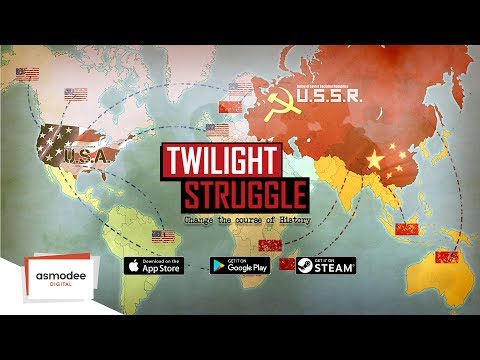 ゲーム画面 
※クリックすると拡大し、ダブルクリックで閉じます。
ゲームの説明
The #1 rated strategy board game comes to Android!

"Now the trumpet summons us again, not as a call to bear arms, though arms we need; not as a call to battle, though embattled we are – but a call to bear the burden of a long twilight struggle..."
– President John F. Kennedy

HISTORY IN THE MAKING
Twilight Struggle puts the player at the center of the Cold War, the political and economic struggle between the U.S. and the U.S.S.R that spanned 5 decades from the 1950's to the 1990's. Designed by award winning creators Ananda Gupta and Jason Matthews, players control one of the two modern superpowers, as they work to spread their dominance throughout the world via political influence and coup attempts. But if either side triggers nuclear war, it's game over!
評価数とランキング順位の推移
ゲームの評判
何故か購入情報が回復した。buggy
カードだけでも日本語化してほしい
日本語化されたら★6
素晴らしい
I can't done in app perchases (turn zero package) prz fix these bugs