Google Play 更新日 : 2020/3/4

〈Android要件〉
 4.3 以上

〈インストール数〉
 100,000以上

〈バージョン〉
 0.23.1

〈提供元〉
 PlayFusion

4.1




3,956人
プロモーション動画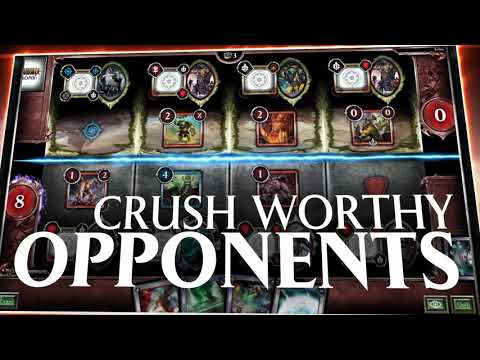 ゲーム画面 
※クリックすると拡大し、ダブルクリックで閉じます。
ゲームの説明
Command powerful factions & legendary Champions in this Warhammer Trading Card Game.

We are Sigmar's Champions!
Thousands of players are heralding the new era – the Age of Sigmar, in this epic Warhammer trading card game born from magic and fantasy.

Deploy units and unleash deadly magical abilities, while completing quests to earn blessings from the gods. Only the mightiest of warriors will stand victorious in this battle for the Mortal Realms, a war that spans both physical and digital worlds.
評価数とランキング順位の推移
ゲームの評判