アクションゲーム
面白いと評判のアクションゲーム!
Green Force: Zombies - HD



 Google Play 更新日 : 2017/2/3

〈Android要件〉
 2.3 以上

〈インストール数〉
 1,000,000以上

〈バージョン〉
 1.5

〈提供元〉
 Raptor Interactive

4.0




12,731人
プロモーション動画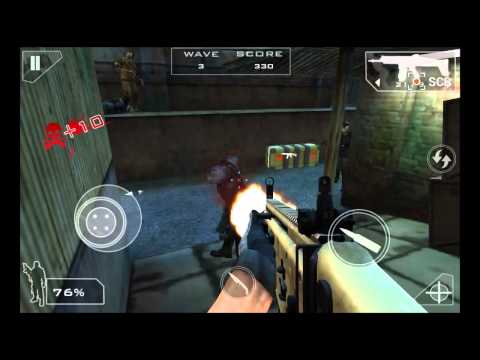 ゲーム画面 
※クリックすると拡大し、ダブルクリックで閉じます。
ゲームの説明
Near future… Deadly virus infects the city, the virus that is turning people into living dead creatures-zombies. The city plunged into chaos. The zombies are forced to live at the expense of non-infected and nothing but human flesh… Government is taking desperate attempts to quarantine the infected areas. Everything seems pointless. The stocks are exhausted…
The renowned professor Dr. Smith Kline is one of those who survived. He claims to have developed a revolutionary remedy to stop this outbreak and possibly cure the infected people.
Special Forces were sent to help. You are the part of Green Force, which takes on the task to rescue the city and possibly save the world! You are the only hope!
評価数とランキング順位の推移
ゲームの評判
面白い! 面白いけど、ボタンの位置を調節出来る機能が欲しいですね…(´・ω・`)
そんなにたいしたことは… 渡辺美姫
面白い 撃ちまくりたい人向けだと思う。
オンラインのレビュー。 オンラインのレビューに、書き入れるようと 思い?入れられませんけど(^_^;) オンラインの方は ショットガンの弾ですが、 補充出来ない!!なぜ?それと、強制終了?続かないけど(^_^;) いっても ラウンド6、7ぐらいで 終わってしまう。後、重すぎます。
ハッキリ言って、つまらない レビューに面白いと書いてあったから試しにDL。が、左右への視点変更が遅い。ただ撃つだけ。これならデッドトリガーの方がマシ。面白いと評価してる意味がわからない。