7,866位

前回 7,866位




ロールプレイングゲーム

面白いと評判のロールプレイングゲーム!

Dice Mage 2



 Google Play 更新日 : 2017/11/1

〈Android要件〉
 4.4 以上

〈インストール数〉
 100,000以上

〈バージョン〉
 1.05

〈提供元〉
 Tapinator, Inc. (Ticker: TAPM)

4.5




4,431人
プロモーション動画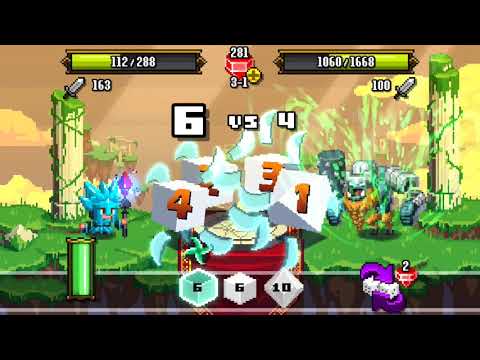 ゲーム画面 
※クリックすると拡大し、ダブルクリックで閉じます。
ゲームの説明
The Dice Mage returns in this sequel to the previously featured one-of-a-kind RPG! With more magical dice duels, accessible yet strategic combat and many mystical worlds to explore, Dice Mage is now better than ever before!

Win loot in high-stakes games of chance and battle your enemies with powerful spells on your quest to defeat evil.

BECOME THE DICE MAGE AS YOU:

FIGHT FOES
Ugly ogres, golden golems, pirate zombies and other creatures of the arcane stand in your way. Use magic explosive dice and your luck-fueled Limit Break to defeat them!
評価数とランキング順位の推移
ゲームの評判
システムは面白いんだけど、ゲームバランスがひどい。敵の直接攻撃スキルが強すぎるので、ダイスで一度も負けなくてもHPが0になったりする。周回で主人公育成はできるがそこまでするほど楽しくはないなあ。
うーん