Google Play 更新日 : 2020/7/27

〈Android要件〉
 4.1 以上

〈インストール数〉
 100,000以上

〈バージョン〉
 3.9.1

〈提供元〉
 Yomiwa

4.5




2,528人
プロモーション動画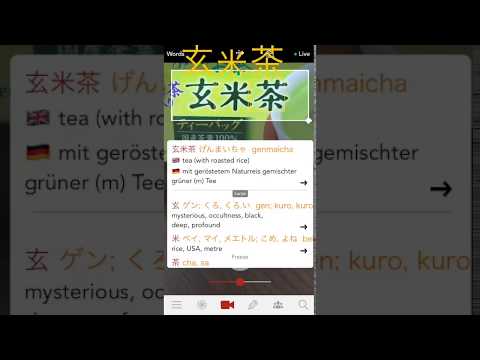 ゲーム画面 
※クリックすると拡大し、ダブルクリックで閉じます。
ゲームの説明
Yomiwa is a fast and complete offline Japanese dictionary, including all modern features. Yomiwa also comes with powerful Optical Character Recognition (OCR) technology which lets you recognize over 4000 Japanese characters (Kanjis, Hiraganas and Katakanas) providing Japanese translations and detailed word informations into many target languages. The app displays a pop-up with translations and definitions of words and kanjis as soon as you point to Japanese characters with your smartphone or tablet. You can also take a picture or pick one from your library and navigate it to translate chosen characters. Yomiwa also has a built-in drawing feature for you to draw and translate Japanese characters on your touch-screen with very high accuracy.
評価数とランキング順位の推移
ゲームの評判
今一スキャンの感度が悪い(誤認識が多い)
あの~、なんて書いてあるんですか?(;´∀`)
Thank you for wonderful app, I have few suggestions again, I want to be able to add examples to a favorite list and export or copy examples also without hiragana like the iPhone version , thank you again.
reconnaissance photo payante
Great app. It works quite well. Even recognizes pixelated kanji!