その他のジャンル
7月15日にオススメゲームに選定!
Aedict3 Japanese Dictionary
このゲームは、2017年7月15日にオススメゲームに選定されました。



 Google Play 更新日 : 2019/12/18

〈Android要件〉
 4.4 以上

〈インストール数〉
 10,000以上

〈バージョン〉
 3.50.17

〈提供元〉
 Martin Vysny2

3.6




748人
プロモーション動画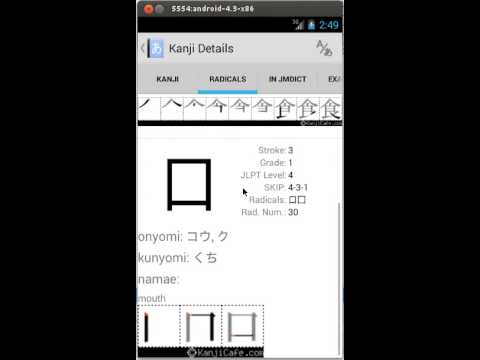 ゲーム画面 
※クリックすると拡大し、ダブルクリックで閉じます。
ゲームの説明
The only Japanese dictionary worth paying for. An off-line english japanese dictionary which uses Jim Breen's JMDict (upgraded EDict)/KanjiDic2/WWWJDIC data along with data from the Tatoeba project. Does not require japanese keyboard. Internet access is used only to download the dictionary - the application itself works offline.

WARNING: Does not work correctly on some Galaxy Tabs 3, namely, the 10.1 Tab 3: users of 7" and 8" Tab tablets have reported that Aedict works correctly for them. Please do not buy this app if you own the Galaxy Tab 3 10.1 device.
評価数とランキング順位の推移
ゲームの評判
For currently about 1,5€ a month you get regularly updated various dictionaries, can save your notepad online with Aedict Online and can also synchronize your notepad over several devices (smartphone, tablet etc). Great value for a moderate price and therefore my favourite dictionary app
イタリア語の辞書があって本当に良かった!!
Hi Martin, this app is really wonderful. Makes my N1 study very easy because of huge vocabulary. I have 2 questions: 1. All the words still don't have example sentences, are you working on that? 2. Although I am backing up my notepads on a regular basis, what steps do I need to take to make sure I can use them on the new device, otherwise I'll be screwed. Will just normal copy paste work if I keep the backups of updated notepads copied on the PC.
All I ever wanted from an electronic dictionary. Auch das deutsche Wörterbuch ist tadellos.
わたしが大好きな携帯辞書!使いやすいし、例文もあるし、新しいバージョンも今frequent かrare と書いてあるのでどれの言葉がよく使うと分かる。全部正しくはないのに助かった。my favorite dictionary application!